Disclaimer: This post contains affiliate links. Should you purchase items from these links, I will receive a commission at no charge to you.
Handmade gifts are fun to make for family and friends. The Cookies in a Jar Gift is something that is popular to give to friends. I added a fun twist to it by creating a reindeer craft that will add holiday cheer. It doesn't take very long to make and puts a smile on anyone's face.
Cookies in a Jar Gift
Cookies in a Jar gift can be any cookie recipe that you wish to share. It is very simple to create this gift by adding each ingredient into a quart-sized wide-mouthed Mason jar. To add to the fun, the reindeer craft needs only a few items to decorate the jar with.
What You Need
Hot glue gun
Quart wide-mouthed Mason jar
Red pom-pom
Wiggle eyes
Gold pipe cleaners
Snag some of the items you need:
Instructions
Start by gluing one end of the yarn to the back of the jar. Wrap the yarn around the jar about a third of the way down. Occasionally add a dot of hot glue to the back of the jar as you wrap to keep the yarn in place. Once you have wrapped the yarn a third of the way down the jar, cut it and glue it down to the back of the jar and let it dry.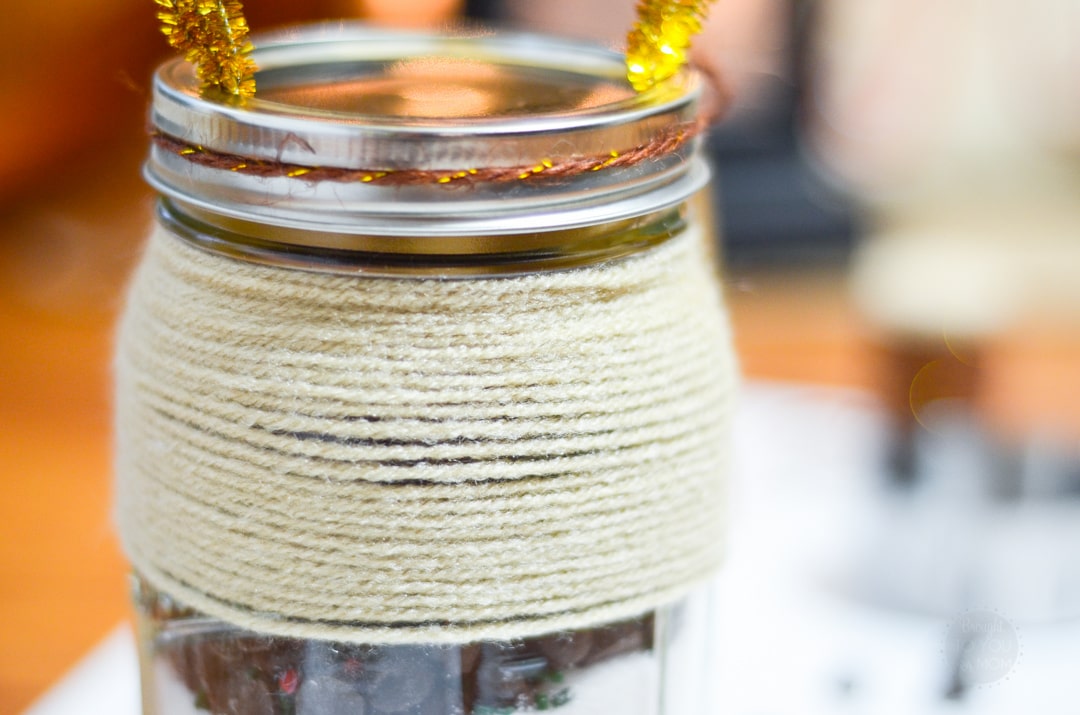 On the front of the jar, glue the wiggle eyes and red pom-pom to create the face onto the wrapped yarn. You will eyeball this to best fit the look. Let that dry while you work on the antlers on the lid.
Use three gold pipe cleaners for the reindeer antlers. Taking the three the pipe cleaners together in a bunch, find the center. Glue the pipe cleaners to the center of the bottom of the Mason jar lid. Let the glue the dry.
While that is drying, go ahead and add the ingredients to your Cookies in a Jar gift. Use whatever cookie recipe you like. Make sure to write the ingredients and recipe onto a gift tag that you can attach to the jar.
Once the glue has set, weave the pipe cleaners between the lid and the ring of the Mason jar lid. This will hold up the antlers. Screw the lid and ring onto the jar and then shape the antlers together to create the reindeer.
All that is left is to give the gift away to someone you love. This reindeer craft doesn't even have to be a Cookies in a Jar gift. You can use this as a fun Christmas craft for kids, savings jar for the holidays, or put hot cocoa in it. Whatever you like!
More Christmas decor ideas using Mason jars with this DIY Mason Jar Lid Christmas Tree.