Need a fun Easter egg craft for kids that can be done by nearly every age group? Maybe something that isn't messy but comes out beautifully and is still hands-on? This fun Easter egg craft is perfect!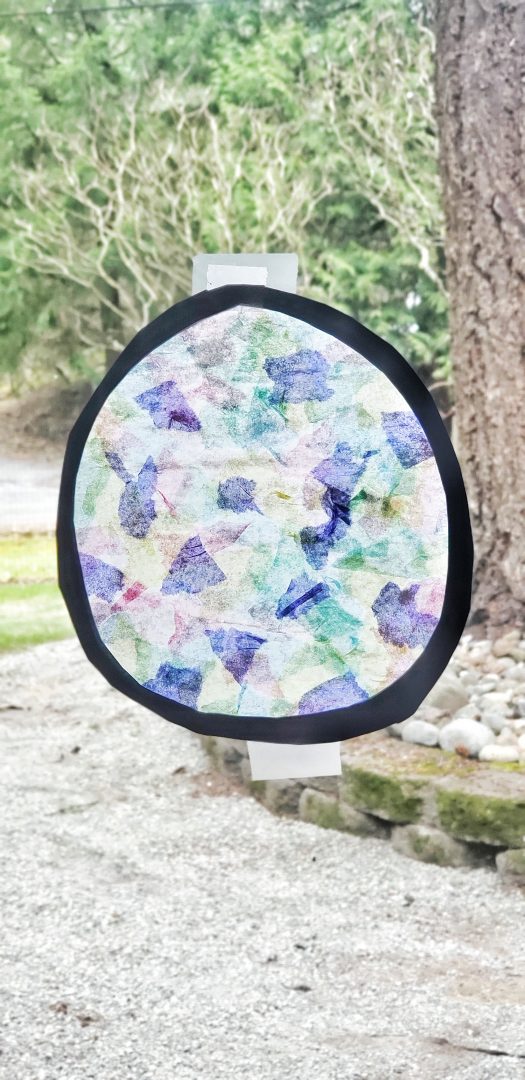 This Easter Egg Stained Glass craft can be easily put together by kids of nearly any age. At the time my kids did this craft, they were 7-years-old and 5-years-old.
They had so much fun doing this egg craft with their grandma who looked after them one evening while my husband and I enjoyed a date night.
I understand that kids sometimes have short attention spans. While craft time sounds fun, my son is the perfect example of the kid who loves to start the project but 30-minutes in, he is ready to go play with his action figures.
This is why I love this Easter craft because it doesn't involve a lot of time but kids can feel proud of the work they have accomplished.
My daughter couldn't wait to tell me all about her Easter Egg Stained Glass and how it works on the window.
That makes for a fun date night with my husband when I know the kids enjoyed time with their grandma. 
There isn't any paint involved or glitter so it should be a pretty easy clean up when done. A good wash of the hands and wipe down the table. Yay for no glitter!
The Easter Egg Stained Glass craft can easily be put together over an hour or two and then left to dry overnight before placing it on the window. It is also very simple to find what you need to make an Easter Egg Stained Glass craft. 
What you need to make an Easter Egg Stained Glass Craft
How to make an Easter Egg Stained Glass Craft
Begin by using construction paper to trace an Easter egg shape for a border. Use your scissors to cut out the egg shape and cut out the inside to leave about a 1-2 inch border.
Cut out enough wax paper to cover the center of your egg border and glue it to the back.
Tear apart pieces of tissue paper. These will five the stained glass effect.
Using a thin layer of glue, begin pasting the tissue paper to the wax paper for one sticky side. Let the kids create whatever shapes they want with different colors. Use small paint brushes to carefully paint the thin layer of glue.
Let the tissue paper and glue dry overnight before hanging.
Hang on a window to let the light shine through for a stained glass look to your Stained Glass Easter Eggs craft.
Easter for Kids
This Easter Egg Stained Glass craft is a great way to also teach kids that we are all different shapes, sizes, and colors.
When we let our light shine brightly through us, all of that beauty shines for all to see. Everyone is beautiful. 
You also do not need to stop at just creating Easter egg shapes. You can create crosses, bunnies, chicks, flowers, whatever you wish. Make it spring or Easter themed to whatever your family enjoys.
Easter for kids is a great time to enjoy spring-themed activities. Everything is blossoming and becoming new.
If it is raining outside and spring has brought showers, crafting can be a great way to keep the kids entertained. 
Plus, this makes for a fun Easter gift to give to grandparents, family members, or friends!
You can also have family and friends come over for a great spring-themed crafting session. Nothing like time together during the Easter holiday.
More Easter Egg Fun
Another great idea that I love to share is this indoor Easter egg hunt and egg craft with toy blocks.
If it is a rainy day outdoors on Easter, no need to be alarmed. Grab some toy blocks and toy block tape to create fun inside. 
Check out my tutorial video below for more information on creating this fun Easter egg craft with toys you probably already have at home.