On my daughter's first birthday, we celebrated with a Minnie Mouse First Birthday Party.  Mickey and Minnie Mouse are a favorite in our home, so we decided to have a Minnie Mouse themed party with a bit of the modern zebra striped twist. It turned out wonderfully thanks to the help of some awesome vendors and the help of family and friends. So how to plan a Minnie Mouse First Birthday Party? Let me share some ideas.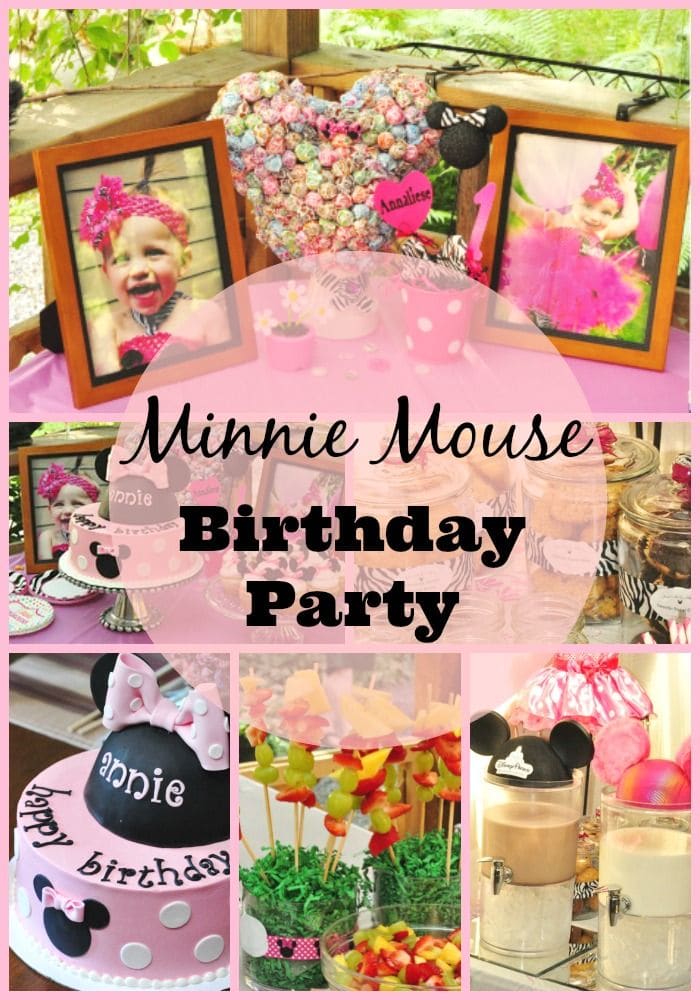 Minnie Mouse First Birthday Party Ideas
The Cake
We'll begin with the cake. In my opinion, that really is the centerpiece of a Minnie Mouse First Birthday Party. The theme revolved around it. We found a wonderful and local baker. She put together a gorgeous two layered cake with delicious flavors inside. She also put together a dozen yummy Minnie Mouse First Birthday cupcakes and one large smash cake for Annie. These really topped off a wonderful display. The cupcakes were perfect for the kids to snag and the adults raved about the raspberry filling in the cake.
Fun with Minnie Mouse Themed Food
The next focus was food for the guests. I am big on presentation and wanted to do something fun. We created a fun food table with cards named to the food item. We had Pluto's Pretzel Mix, Daisy's Vegetable Garden, Minnie Mouse's Fruit Garden, etc. It really was cute and completed the table. To add to the fun, for Minnie's Fruit Garden, we took skewers, short glass vases, Styrofoam, and paper grass to create a "garden" look. We cut up fruit and placed them on the skewers. We added Styrofoam covered in paper grass in the vases to uphold the skewers. And there you have it, Minnie Mouse's Garden.
Buy the items you need for this:


The Popular Pinned Minnie Mouse DumDum Tree
I created a Minnie Mouse DumDum Tree that has been my most popular pin to date. This craft can easily be used as a Mickey Birthday theme too. It was a cute addition to the cake table, and everyone got a kick out of it. It took some time and work to create, but it was well worth it to create such a fun Minnie Mouse Centerpiece.
Minnie Mouse First Birthday Party Decorations
Another fun idea to really bring it all together is to order a highchair tutu. You can even have them match a tutu your little princess might be wearing to the party. Foxy Fashions Cute Accessories on Facebook put together both a fabulous outfit for Annie and this adorable tutu. It was perfectly fit around her highchair and we never had an issue with it falling. It came with Velcro attachments that were perfect to keep it held the entire party. A great touch to Minnie Mouse First Birthday Party Decorations.
Milk and Cookie Bar – A Fun Twist on Minnie Mouse First Birthday Party Favors
The last item I really enjoyed putting together was the Milk and Cookie Bar.  I love candy bars and other fun things you see at weddings so I thought why not have something fun for the birthday party for Minnie Mouse First Birthday Party Favors. This idea was incredibly easy to put together and was a super sweet treat for everyone. The pink candy striped straws are such a cute touch. It took some time to decorate the jars and mason jars for the cups but the time was completely worth the outcome.
Buy the Items for a Milk and Cookie Bar:
Have fun with it. Minnie Mouse Birthday party themes are incredibly sweet and cute. We had fun adding the theme to our daughter's invites, party favors, gifts, decor and more. We even purchased the fun Minnie Mouse lounge chair for her "seat of honor". Detail is everything and you can never have too much creativity.
Be sure to also check out these Fancy Nancy Party Ideas for more inspiration!