There is something about some of the most peaceful spots in Epcot to kick up your feet and relax for a minute. I was a Cast Member in 2005 at Epcot and loved every minute of it. I often found myself spending a few moments of my days there in each of these favorite quiet spots in Epcot. People watching and enjoying the sounds around me.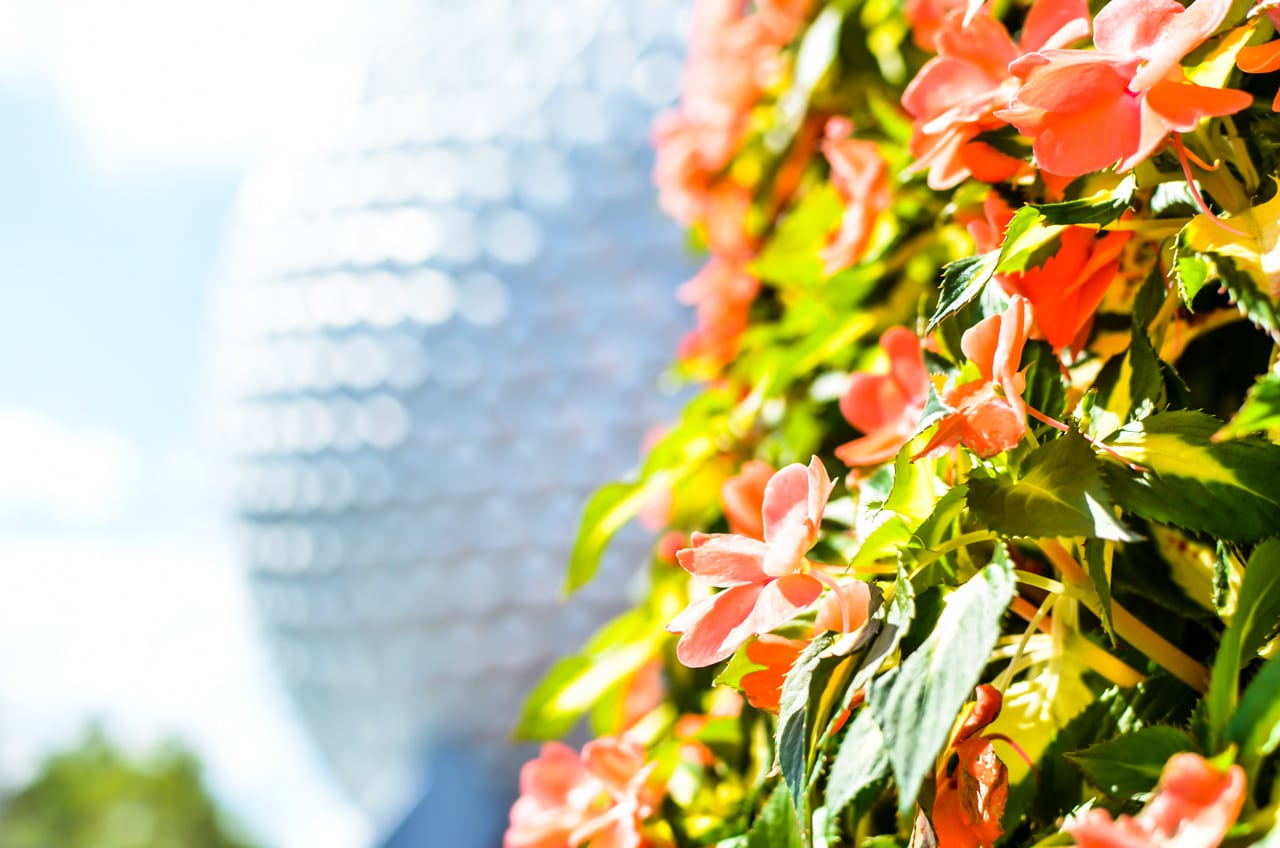 These spots are great if you're traveling solo or as a couple. Walt Disney World doesn't have to be a rushed vacation. As busy as it can be, I find some areas to be almost zen-like. Especially when you take in the distant sounds of the crowd as it hums over the familiar ambient music played across the park.
The Walls Outside of Mouse Gear Across from the Fountain of Nations
This sounds silly but I love to grab a coffee from Starbucks and sit on the walls outside of Mouse Gears across from the Fountain of Nations. I enjoy being in the near center of the park and watching the crowd go by. You can hear the hum of everything and occasionally watch the fountain show.
Sadly, there is the news that this area is going to be undergoing major refurb soon but until September, this is still a favorite spot.
The Platform Between France and International Gateway
There is a spot just next to the bridge between France and International Gateway that jets a bit onto the water of the World Showcase Lagoon. Occasionally it is closed off for special events but if you find it open, this is such a great spot to sit and watch the Friendship Boats come and go. The music of France gently whispers as the gentle breeze of the day washes over you.
The Garden in Japan
This is a well-known spot but probably one of the best places to meditate for a minute in the rush of the crowd. It is beautiful with the koi pond and the surrounding greenery. A nice place to enjoy a snack or a sweet from the Japan Pavilion Shop.
The Benches Between the Tower Shops at the Entrance of World Showcase
There are benches just between the towers at the entrance of World Showcase. I have literally sat here and enjoyed lunch for some time. Occasionally, Pluto has even walked by to give me a few high-fives. I like grabbing a platter of some of my favorite foods from Epcot festivals and sitting here to enjoy them on a beautiful day.
The Rose Gardens Near Future World and the United Kingdom
You literally can "stop and smell the roses" here. This is an overlooked area of Epcot that is quite beautiful. Plus, the hint of rose scent as you pass by is calming. I honestly prefer to walk in this direction going to and from World Showcase more than any other pathway.
The Breezeway Behind Club Cool
Need a place to cool off? The breezeway behind Club Cool is the perfect place to catch some great air conditioning. It is always cool in here and often there are chairs or benches to enjoy. Sometimes though, I like to sit against the wall on the floor and just take a breather.
The Living Seas
Nearly this entire pavilion is a relaxing spot. When it isn't crowded, sitting and watching the fish tanks is phenomenal. You can take a moment to enjoy nature and feel like you are drifting under the ocean.
Lotus Bloom Café in China
If you want a peaceful lunch with a gorgeous view of the temple garden, Lotus Bloom Café in Chine is perfect. You can enjoy Asian cosine, cool off, and take in the landscaping around you. I hardly ever find Lotus Bloom to be overly crowded.
La Cantina de San Angel
Another great place to grab food and relax with a peaceful spot is La Cantina de San Angel in the Mexico Pavilion. The deck area is perfect as it jets over the water. It can sometimes become crowded during meal times here but if you go during non-peak hours, you can easily find a nice seat with a cool breeze. Also, have the nachos with a friend. You can easily share them together and enjoy!
There are a lot of changes in store for Epoct and I am positive that I will be revisiting this post soon to update. For now, these are just some of my favorite quiet stops at Epcot. I think you will find these areas perfect for any quiet moments that you need at Walt Disney World too.