Captain Marvel is now on digital and arrives on Blu-Ray on June 11th. I think Captain Marvel is probably the Marvel film I have seen the most outside of Iron Man's movies. I want to share with you more about Captain Marvel coming to home collections and a few Captain Marvel themed crafts and a recipe provided by Walt Disney Studios.
Captain Marvel has become my favorite female lead character in the Marvel Universe for many reasons. The 90's nostalgia gets me every time in this film. I grew up in the '90s with No Doubt and Hole being some of my favorite "angry girl" bands.
I live in the Seattle area where grunge and garage bands were born. Plus, I love that the only Blockbuster Video store left in the state of Oregon, just below us, was used in this film. A little shoutout to the Pacific Northwest.
But slow loading times and dial-up internet were not the only things to love about this film. There is a specific scene where Carol Danvers (a.k.a. Captain Marvel) is shown getting up over and over again from her childhood forward. Every time she is knocked down, she gets up time and time again.
As Marvel's first female-led character franchise film, I loved that it really incorporated that much-needed encouragement to keep getting up as women even when we are seen as weak. Some may have eye-rolled (and boy, did they) but I cheered her on. Higher, further, faster, baby.
Closing out the stand-alone films of Marvel Phase 3, I think Captain Marvel did a great job in bringing us full circle in this universe and dimension. I look forward to seeing just how Marvel incorporates her in the future. I think there are big things ahead for Captain Marvel with hopeful new Avengers teams in Phase 4.
Marvel Studios' Captain Marvel on Digital and Blu-ray
As I mentioned above, Captain Marvel is already available on Digital in HD and 4K Ultra HD™ and Movies Anywhere. If you collect hard copies of the films, as we do, you can grab your copy on June 11th. There is also a digital code included with the movie so you can take it with you on your devices. Great for travel entertainment!
Bonus Features
Blu-ray & Digital:
Alternate Movie Versions

Movie with Intro – An introduction by directors/screenwriters Anna Boden & Ryan Fleck.

Movie with Commentary – Commentary by directors/screenwriters Anna Boden & Ryan Fleck.

Featurettes:

Becoming a Super Hero – Follow Brie Larson's journey as she joins the MCU, and see what it takes to be a Marvel Super Hero in every sense of the word.

Big Hero Moment – Explore how impactful Captain Marvel's entrance into the MCU is, and how she inspires audiences around the world.

The Origin of Nick Fury – Witness some of the MCU's most significant events through Nick Fury's eyes, and see how his influence helped shape the MCU.

The Dream Team – Discover why Anna Boden & Ryan Fleck are the perfect pair to direct Marvel Studios' most powerful hero.

The Skrulls and the Kree – Take a deeper look into the Skrulls and the Kree, their ongoing conflict, and the importance of shifting perspectives in the film.

Hiss-sterical Cat-titude – The cast and crew dish on working with Goose and the raw talent it takes to portray such a complex character on-screen.

Deleted Scenes

"Who Do You Admire Above All Others?" – Kree Commander Yon-Rogg must answer to the Supreme Intelligence, who questions his leadership ability.

Starforce Recruits – Yon-Rogg lectures a roomful of students on the Kree's mission to defend all nations from the scourge of the Skrulls.

Heading to Torfa – Vers (Danvers) and her fellow Starforce members banter as they prepare for their rescue mission to Torfa.

"What, No Smile?" – In this alternate version of a scene from the movie, Vers is consulting a map when she receives a dubious offer of assistance.

Black Box – Keller attempts to track Vers and Fury after their escape in a quadjet from the Joint USAFA Facility.

Rookie Mistake – Novice S.H.I.E.L.D. agent Phil Coulson helps Director Keller out of an embarrassing situation.

Gag Reel – The fate of the universe hangs in the balance as the cast battles props, flubs and Flerkens in these outtakes from the set.
Digital Exclusives:
Journey into Visual Effects with Victoria Alonso – Experience how filmmakers' visions of the MCU come to life on-screen through the skill of the Visual Effects team.

What Makes a Memory: Inside the "Mind Frack" – What does it take to craft an action-packed sequence for a Marvel Studios film? Nothing short of an epic team effort!

Concept Art – Explore artwork from "Captain Marvel" and trace the visual development of characters.

On-Set Images – Uncover a trove of behind-the-scenes and production photography.
Captain Marvel Crafts
Here are a few great crafts provided by Walt Disney Studios for you and your family to enjoy. They are great for movie nights or things to do together as a Marvel loving family. Click on the activity buttons for more. Enjoy!
Goose the Cat Puppet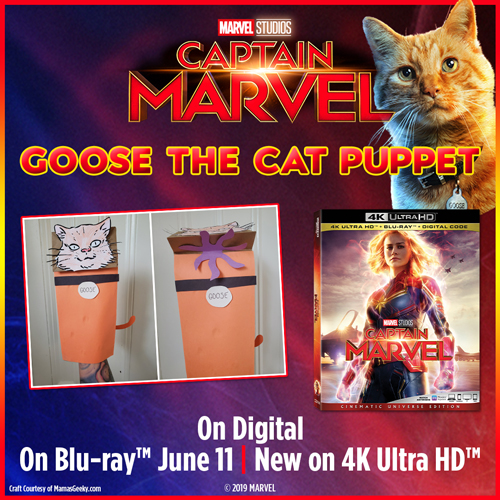 Hala Star Necklace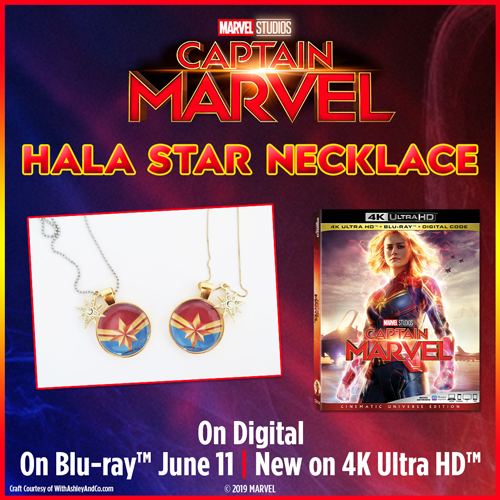 Kree-Atine Captain Marvel Smoothie
I love this one because my husband and I are big on creatine in our smoothies when we weight lift. This is a fun way to jazz up our smoothies every now and then.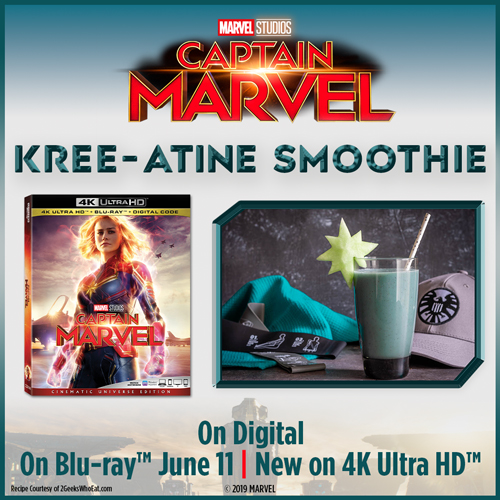 Follow Captain Marvel on Social Media: