Recently I had the chance to attend Disney Social Media Moms Celebration and enjoy the parks at Walt Disney World, thanks to the wonderful discounted package offered to attendees. With the conference being in May, there is a chance to enjoy the Epcot Flower and Garden Festival that takes place during that time.
Dates vary, but the festival usually takes place between March 1st and the end of May. In 2019, dates will be March 4, 2020, to June 1, 2020. I'm here to tell you why you shouldn't overlook Epcot International Flower and Garden Festival.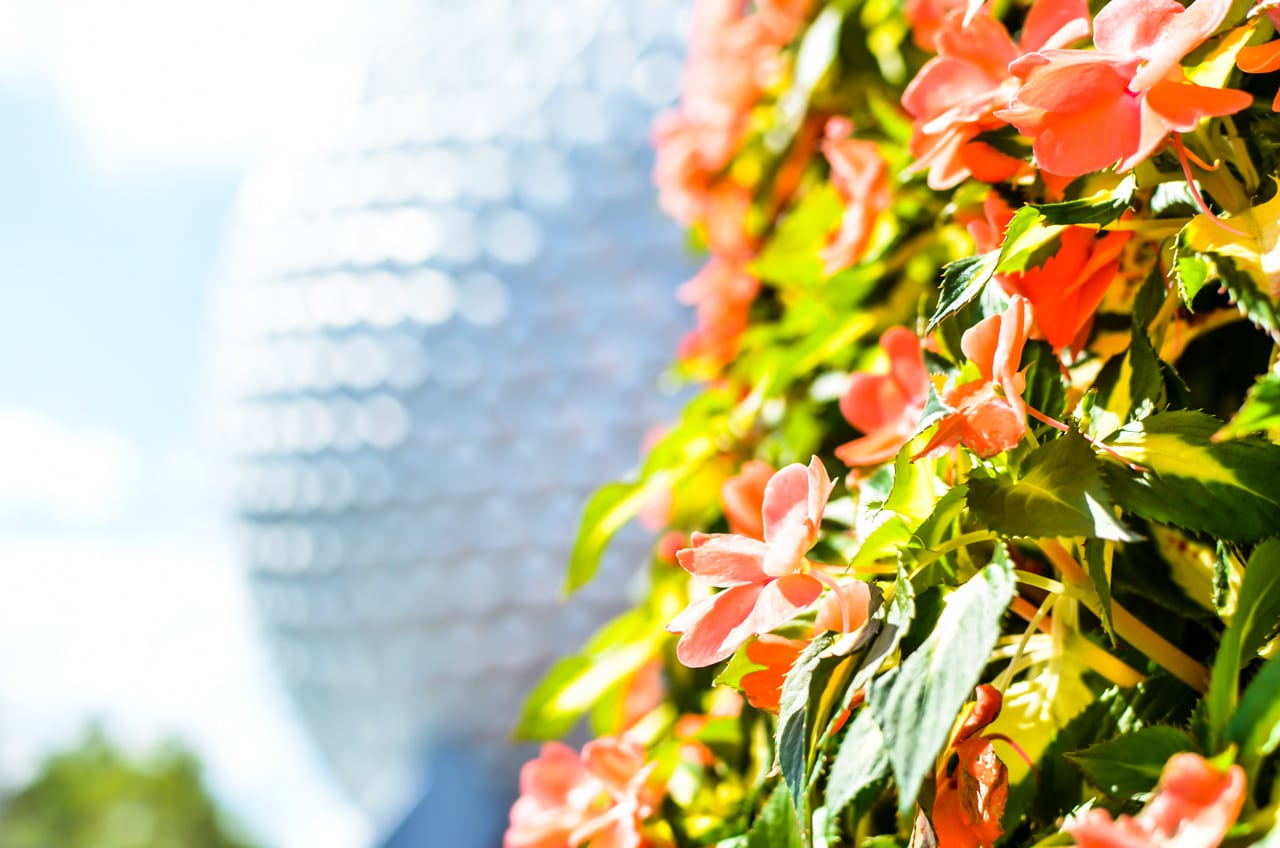 I'll be honest that I have even overlooked this festival over the years. We always hear about Epcot Food and Wine, and I think Flower and Garden can easily be overshadowed by that. Perhaps people think the term "flower and garden" is more of a "trade-show".
However, it is so much more than that. I want to share why you should make Epcot Flower and Garden Festival a part of your Disney World Planning in spring.
Epcot Flower and Garden Festival – AKA Disney World Flower and Garden Festival
But really it is called the Epcot International Flower and Garden Festival. Hopefully one of these names got you here!
The Education
For those who do love the aspects of "flower and garden", you will be immersed in the beauty that Epcot holds during this festival. There are also wonderful stops along the way to learn things about creating your own wildlife habitat and garden.
I personally enjoyed the Backyard Habitat (Presented by National Wildlife Federation) because it gave examples and explanations of ways to create a home for wildlife in our own backyards. So simple, yet educational.
The Fun
Of course, I do recommend taking in the beauty of the topiaries and flower gardens spread out around Epcot during this time. They are breathtaking with every detail that is put into them. It is brilliant how each character is lifelike in movement.
For those of you who love Disney photography as I do, bring the camera. As you can tell by this photo-packed post, it is a photographer's dream come true.
Don't forget to get your dance on with the Garden Rocks™ Concert Series. There are dining packages and great "throwback" bands to choose from. This is a great way to see some of your favorite bands up close and personal.
This 2016 was also special for Annual Passholders. Every passholder received a special edition print drawn by legendary Disney artist Don "Ducky" Williams. Once a month, Annual Passholders could collect all three, while supplies last. I love it when Disney makes events even more special.
What to Eat at Epcot Flower and Garden Festival
Now let's get to the good stuff. The food! I do feel like Epcot Flower and Garden Festival and Epcot Food and Wine seem to nearly blend in eats anymore, but who doesn't love it? Outdoor Kitchens are set up during the festival to feast guests in an arrangement of different cousins. Come hungry and ready to eat.
I'll share with you some of my favorite Outdoor Kitchens and food picks. Eating around World Showcase can get pricey during the festival, but if you're looking for a place to try new things, I encourage you to keep your budget and palate open.
Don't forget to grab a Passport to find all of the great places to eat and enjoy at Epcot International Flower and Garden Festival.
Pineapple Promenade
This one is kind of a given if you are over the age of 21 and love Dole Whips. Pineapple Soft-serve with Parrot Bay Coconut Rum is really a perfect blend. I warn, though. It takes the Dole Whip to a whole new level.
The Smokehouse: Barbecue and Brews
The Beef Brisket Burnt Ends Hash with White Cheddar Fondue and Pickled Jalapeños is my all-time favorite eat at Epcot Flower and Garden Festival. I was even shocked that it won me the top #DisneyFood photo at Disney Social Media Moms Celebration. See the photo below.
I could seriously buy ten of these. The cheese melt blankets your taste buds and the spice is just right. A southern flavor party in a dish.
Florida Fresh
The Shrimp and Stone-ground Grits with Andouille Sausage, Sweet Corn, Tomatoes and Cilantro brought together such a feeling of eating beachside. The tomatoes, sweet corn, and cilantro were a bright flavor with the meats. A pleasant blend, and also Gluten-Free!
Fleur de Lys
Don't skip dessert! This 2016 featured the new Macaron Chocolat Framboise: Large Raspberry Macaron with Chocolate Fudge and Raspberry Jam. So decadent, I went back TWICE for one. Rich and smooth. I promise you, you will go back for more too.
With the food, the gardens and the fun, how can you miss the Epcot Flower and Garden Festival? While this 2016 has come to a close, I recommend making it a part of your Walt Disney World vacation during the 2019 Festival; running March 4, 2020, to June 1, 2020.
No matter if you're there for the education for your own backyard garden or just to enjoy the sites and eats, you are sure to immerse in beauty.
Share your Epcot Flower and Garden favorites and photos with me on Twitter!
More Disney Travel Tips: